Products and Applications from Nevada Composites, Inc.
Green-AeroSM single-sided tools for prototyping, short-run manufacturing, repair, or replacement of composite materials
Green-AeroSM washout mandrels, including for high-temperature exposure
Green-AeroSM tooling as masters or cauls for making BMI and other composite tooling
Surface Sealing
Surface must be sealed for composite fabrication

Conformable sealing/release film that is vacuum-formed to the surface.
Spray-on coatings to harden and/or seal surface
Wrap with release tape, or sleeve-seal with shrink-tubing
Case Studies — Single-Sided Tooling
Reverse engineer existing component to produce a CAD file
Use Fused Deposition Modeling to make master/mold


Feasible because master sees no temperature and only rough vacuum
Master has high-quality surface but is lightweight and porous. (Porosity facilitates vacuum-forming of tool and reduces FDM resin cost.)

Make next-generation tool on FDM master.
To seal surface, bag tool surface or apply coating.
Layup, debulk, and cure as usual: 177°C/350°F & 700 kPa/100 psi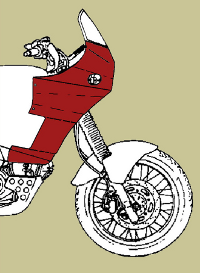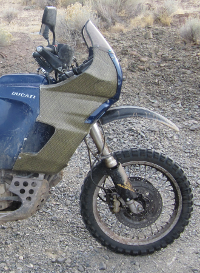 Rapid tooling to produce replacement motorcycle parts
The Cagiva (Ducati in the U.S.) E900 Elefant is an Italian endurance racing bike manufactured between 1993-99


The bike is relatively rare. Parts that are shared with other bikes may be available; most body parts are not.


In about one day we can make a multi-use tool from a damaged part.


Using this tool, custom replacement parts can be manufactured in a day using vacuum infusion followed by room- or elevated-temperature cure and appropriate finishing and/or painting.


Case Studies — Washout Mandrels
Mandrels with complex features and tolerances of greater than ±0.13 mm (0.005 in.)
To achieve the high tolerances and complex features required, mandrels were machined from appropriately sized blanks of tooling material.
Mandrels were coated with our multilayer spray-on coating in all areas exposed during winding. This also served to strengthen the surface of the mandrels.
Note that this approach can proceed without a master or mold but also can be used to refine tolerances on as-molded tools.

Retrofit ducting for legacy military aircraft produced using Green-AeroSM washout mandrels
Bellows duct includes metal rings to maintain shape
Green-AeroSM washout mandrels incorporated this feature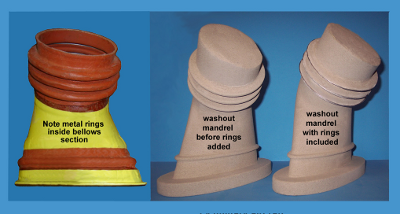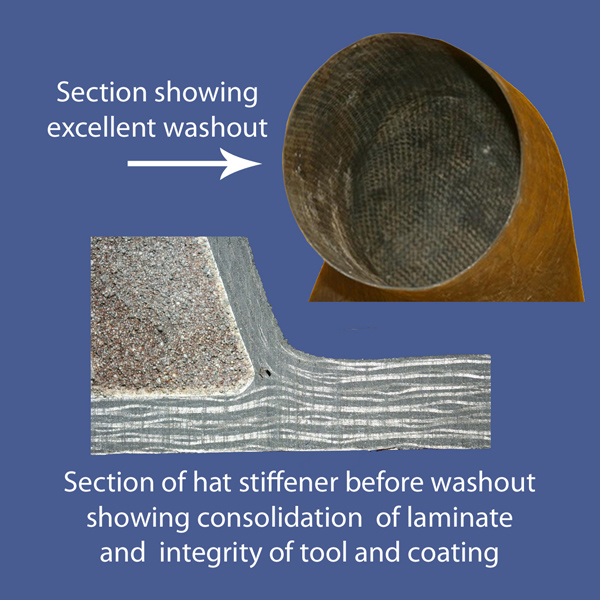 Washout mandrels for very high temperature fabrication
Autoclave cure at 370°C (700°F) and 1400 kPa (200 psi)
We have developed our own washout refractory coating that both releases and washes out readily after cure.
Our tooling withstands the conditions very well, washes out well, and offers a low thermal mass to facilitate composite cure.